Blog posts on this site may contain affiliate links, which means I may receive commissions if you choose to purchase through links I provide (at no extra cost to you). Read my full disclosure and privacy policy here.
This post is a partnership between our blog and US Family Guide. They provided me with information on TurnGram as well as a free trial of the service in exchange for my opinions here in this post.
Raise your hand if you are one of the few people who still print photos. Ok, now are those photos from your phone? And how often do you find yourself doing it? Let me clue you in – I might have been a scrapbooker in the past, but the days of me printing off photos have long passed. That doesn't mean that I'm not wishing I still did, though!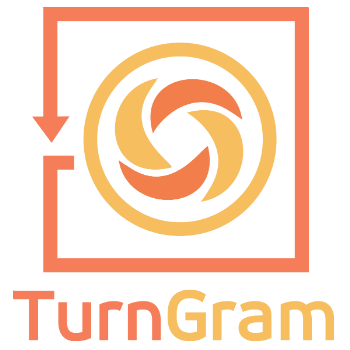 TurnGram to the Rescue!
Enter TurnGram. It is a hassle-free service to have your photos delivered directly to the door of your friends and loved ones. I simply signed up for their service (linked to my Instagram account) then monthly they mail me select printed photos based on instructions I provided. Mine were to be of photos of my kids! How do you think they did?
How to Set up TurnGram
For a few bucks a month, TurnGram will select photos from your Instagram feed based on instructions you provide and deliver them directly to the door of your friends and loved ones. You simply go to their site and link your Instagram account, tell them who you'd like photos sent to, and voila!
Here are some examples US Family Guide suggested as I set up my TurnGram account (if you don't enter something like this, your Instagram bio will auto-upload to your TurnGram, so make sure that's nice and detailed!):
"I would like to get photos of my family, my latest vacations, adventures, and trips. I'm planning to display them around the home (fridge, home office, living room). Please focus on sending me photos of family (Include their names/IG handles if you have them) so that the pictures in our home don't get too out of date (kids grow up so fast!)."

"I would like to send my mother (Maria Eastman) photos of my family on a monthly basis. She loves to display photos around her home and show her guests recent pictures of the grandkids. So please make sure to include the kids in your photo selections as much as possible."

"My wife and I have a newborn baby girl. I'd like to receive a monthly TurnGram to my office so that the photos in the frames on my desk stay up to date. Please send me mostly photos of my wife and daughter."

"I just got a new puppy! He's only 6 weeks old and I know he's going to grow up super fast. I want to TurnGram my parents monthly pictures of their furry new grandchild! If you include some photos of me, I think they'll enjoy those as well :)"
Putting pictures of the kids in the office or in the hands of the grands – that right there is a great busy mom hack, isn't it?
I was pleased with my service and am looking forward to seeing what the next few months of my service bring. I'll also be thinking a bit more as I take and post photos – you never know what ones might show up in the mail!
+
This deal ends on January 1, 2018!!! 30 Days Free of the Most Unique Holiday Gift – Get your first month FREE when you sign up for TurnGram today! No coupon code required. 100% money back guarantee if you are dissatisfied with our service in any way. Don't miss out! Sign up today at turngram.com!