Blog posts on this site may contain affiliate links, which means I may receive commissions if you choose to purchase through links I provide (at no extra cost to you). Read my full disclosure and privacy policy here.
Disclaimer: To bring you this Toddler Wish-List, I was provided with products in exchange for my honest review. All opinions are my own. 
Can you believe that tomorrow the twins will be turning 23 months? I'm not alone, right? It is time to be in party planning mode, celebrating the official move into toddlerhood…or the terrible twos…or something like that.
Speaking of party planning, it probably makes sense to start thinking about what to get the girls who "have everything" because of being third in line of spoiled 'lil Burghers. Fresh and new things are always fun, aren't they? Thus, I put together a toddler wish-list full of fun items for those hard to buy for 'lil divas and heroes in your life.
Toddler Wish-List
Musical Toys. The girls love to sing and dance, so what better than giving them toys to make their own music? This hedgehog accordion is unique and great to pair with these animal egg shakers.
Lovies. I melted when I found this stuffed hedgehog (are you sensing the theme? The girls happen to have an affinity to them – big things come in small packages!). Doesn't her hair remind you of Ava's?
A really great blanket is always a win around here, too – and having a backup never hurts, just ask Evan and Ava.
Books. Babies, I mean toddlers, can never tire of books. Little Women is a pretty empowering one for the 'lil ladies in your life while the 'lil guys might enjoy The Jungle Book. Isn't it great that these classics come in toddler friendly board book versions?
Bath Toys. Bath time continues to be a struggle for us, so we're hoping some fun bath toys just might do the trick to get the girls okay with the tub. Toys like Boon Pipes and Gears are a fun way to start getting your 'lil engineers' minds moving, too!
Puzzles. While standard puzzles can be fun, I think mix and match toys are also good ways to introduce puzzles and problem solving. Aren't these Mix and Match Animals cute?
Note: The girls will be getting these items for their birthday – I'll be sure to share some photos of them as soon as they unwrap the goodies. Let's not wish the next month away too soon, though! 
Bonus for Mom
Now that your babies are toddlers, you're probably about ready to get rid of the diaper bag. But don't go there just yet. Consider the Petunia Pickle Bottom Boxy Backpack, an upgrade to your standard diaper bag. It offers versatile carrying configurations, organizational pockets, and a built-in charging station (doesn't every mom need that?!). With fun prints, there's something for every mom.
The Baby Cubby
The items above can all be found at The Baby Cubby, with a website (babycubby.com) and retail store (in Utah). Not only do they carry specially picked and tested toys and clothes for baby, functional baby gear, and products for mom; they provide a community for moms and make us feel special. Our role as parents is important, and they celebrate that. Follow their Cubby Community Blog to see what I mean – including twin tips and How to Dad!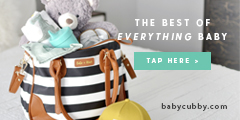 What would you add to this toddler wish-list?