Disclaimer: I received event tickets for my family and for a giveaway in exchange for this post. All opinions, however, are my own.
Just in time to celebrate the Memorial Day holiday, the Pittsburgh Symphony Orchestra is bringing the season finale of Fiddlesticks with their A Salute to America concert.
Why would a family that has never been to the Symphony want to share a concert with you? Well, we're growing to be more cultured this year and Fiddlesticks is a great way to introduce the kids to the PSO's musical offerings. Fiddlesticks is a concert series geared toward children ages three to eight. The concerts are on Saturday mornings and include a pre-concert event that allows the children to explore and discover music.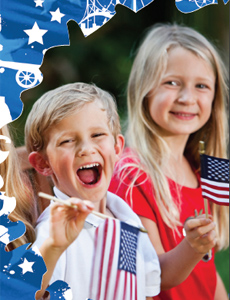 Our family is fairly patriotic (on our way home from Wisconsin, the activity was counting American flags), so it's no surprise that I'm excited to know that some of my favorites will be featured. I am sure Arianna is going to love singing along to "You're a Grand Ol' Flag" while Evan will probably give you all a good laugh with his singing of "Take Me Out to the Ball Game"!
If you are in the area and want to go, the concert will be held at Heinz Hall on Saturday, May 17 at 11:15 AM. Tickets are available to purchase online and start at $12. I'm also offering a family four-pack of tickets to one lucky reader! Enter below through May 5.
Can't make it to A Salute to America but want to introduce your 'lil Burghers to the PSO? Details on the 2014-15 Fiddlesticks season can be found at www.pittsburghsymphony.org. Fiddlesticks is presented by Macy's.