Today's post is part of the Breastfeeding Blog Hop hosted by Life With Levi, The Slacker Mom, and Diary of a Devil Dog Wife and the topic is "Breastfeeding Rules".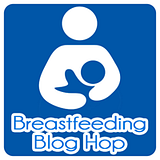 The one and only rule I lived by was "do what works for you and baby", and I am so thankful. Sure, there were basic guidelines (like make sure he is gaining weight) that had to be followed; however, I really had to throw other rules to the side. There is no set schedule or place a baby wants to eat, you just have to go with it. So, heck with rules!
***
I am glad I've had the opportunity this past year to feed 'lil Man and share our journey with you. This evening, I tried to offer 'lil Man one more shot, but he chose the bottle instead. We made it about eleven and a half months, so I think by any "rule", this is a great feat. While I may not be as actively involved in the Hop as I have been, I will be making it a point to keep tabs on the prompts and chime in when I can. Who knows? Maybe one day we'll be announcing that we're going for the next 'lil Burgher and I'll be right back here with you Mamas. Happy #bfing!