Blog posts on this site may contain affiliate links, which means I may receive commissions if you choose to purchase through links I provide (at no extra cost to you). Read my full disclosure and privacy policy here.
Enter disclaimer text This post, Scrape-A-Round, is one such post.
I know we've been pretty lucky when it comes to the lack of snow we've had so far, but it is December so no better time to prepare. That's why I'm going to give you a heads up about the Scrape-A-Round.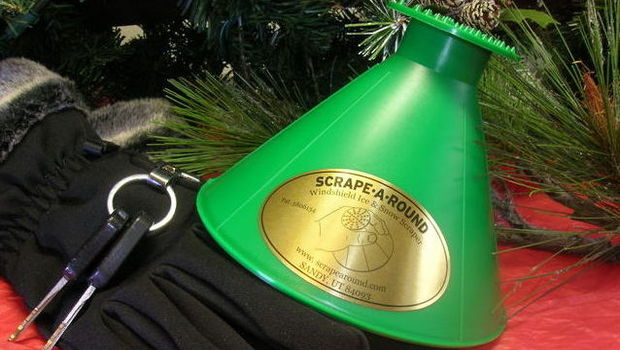 This tool will keep you from scraping windows the old fashioned way and get your windows clean quickly. Don't believe me? Check out Scrape-A-Round in action!
The Scrape-A-Round features:
Softer plastic, allows the scraper to conform to the window curvature!
18″ of ice scraping surface.
The comfortable grasp provides relief for the arthritic or carpal syndrome sufferer.
Direct pressure to the window, no pressure lost through the ice scraper!
The circular rotational motion of ice scraper.
Double ice scraper action, leading edge and trailing edge.
Multi functional, remove the cap and it doubles as a funnel.
This scrapes windows frost and ice free in half the time!
You can trust me when I say, it even makes the perfect gift for the Holidays. You can find out more on their website.
My readers get to save: Get FREE Shipping when you use code LU8FBEZREU2 at checkout by clicking here.