Blog posts on this site may contain affiliate links, which means I may receive commissions if you choose to purchase through links I provide (at no extra cost to you). Read my full disclosure and privacy policy here.
Enter disclaimer text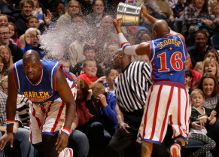 It's not too early to start to think about how you are going to spend your kids' holiday vacation. This year, my family will be catching a show I've secretly wanted to see since I was young – The Harlem Globetrotters! Watching the commercials, I was always amazed by their skills and I just know my kids will love laughing at the antics, too.
There are two options for Pittsburgh families to check them out on Friday, December 26. There's a 1 PM and 6 PM show at CONSOL Energy Center.
The iconic Harlem Globetrotters are coming to an arena near you with their unrivaled family show, featuring some of the greatest athletes on the planet. With incredible ball handling wizardry, amazing rim-rattling dunks and trick shots, side-splitting comedy and unequaled on-court fan interaction, this must-see event is guaranteed to entertain the whole family creating memories that will last a lifetime. The Globetrotters will face a great challenge this year against the Washington Generals who were the last team to beat the Globetrotters in 1971, and are now coached by a former member of that team. They are on a mission and will do whatever it takes to win, with a new strategy that is sure to give the Globetrotters a run for their money.
Use promo code FAMGUIDE at harlemglobetrotters.com/tickets to save $7 off select tickets to either game.