Blog posts on this site may contain affiliate links, which means I may receive commissions if you choose to purchase through links I provide (at no extra cost to you). Read my full disclosure and privacy policy here.
Today's post is part of Life With Levi's Breastfeeding Blog Hop. We're talking about "Nursing in Public" this week.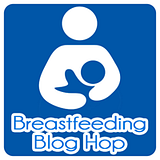 My mom once told me that when you had a baby, you would lose all self-consciousness of your body. All those doctors and nurses coming in and out during L&D, recovery, and in your room…there is no avoiding having strangers, family, or friends see the lady parts. Sometimes, thankfully, those people (::ahem, Mr. Burgher circa October 2008::) don't always realize that they are in the vicinity of your "private" public time.
But, some people have different opinions about public nursing, and after a personal incident with many hurt feelings, I get that. The thing is, I am quite proud of the success 'Lil Man and I have had on this journey and I hate to miss out on get-togethers just because 'Lil Man is getting his dinner on. Yet, I know that if someone is not comfortable, it's not appropriate.
That's why we carry a nursing cover with us (even though 'Lil Man HATES it and tries to tear it off) so that 'Lil Man can eat on demand. Or, we bring pumped milk or rice cereal. We make it work. But there are still times when I am comfortable nursing in public (98% of the time with that cover) like:
* When 'Lil Man was a week old and needed food NOW at the mall post-Santa photo. I asked my Mother-in-Law if it was allowed, and we settled in on a mall bench and got to work.
* At my friend's baseball game. We were sitting sort of behind the bleachers under an umbrella and I just did what I had to do.
* In the backseat of the (parked) car while we waited for Mr. Burgher to buy some dog food.
* At a friend's community pool (with 'Lil Man tucked under a towel).
I guess nursing in public is something that you just have to feel comfortable with. . .and need to make sure those around you are comfortable with your choice. Hopefully, as more and more mamas get educated about breastfeeding, the public will become more comfortable with it and we can all eat what we want when we want it. Until that time, I will do my best to be respectful of others' opinions (but please be open with me so I know them).
***
Speaking of nursing in public, here are a few shots from Saturday's Big Latch On event/world record breaking in Myrtle Beach, SC. 'Lil Man and I took part while we were on vacation. 18 Mamas and babies latched on for 1 minute ('Lil Man took full advantage of a drink in the hot sun and latched for a really long time). Enjoy the photos from Lauren Boyd Photography!