Blog posts on this site may contain affiliate links, which means I may receive commissions if you choose to purchase through links I provide (at no extra cost to you). Read my full disclosure and privacy policy here.
Disclaimer: My family received admission to Monster Mini Golf compliments of US Family Guide. All opinions, however, remain my own.
Friday night, I wanted to surprise the family with a date night. We headed out to Monroeville to Monster Mini Golf.  It's a glow in the dark indoor mini golf attraction, perfect for this cold winter days.
As I expected, Evan was a 'lil afraid when we first walked in. He did warm up a bit…at least until he saw and heard "the rumble box" on the far end of the course. (If your 'lil one is easily scared, pass until they are a 'lil older.) Arianna, was absolutely in love with the atmosphere.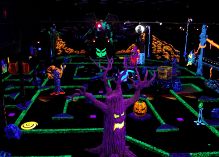 Like other times we've mini golfed as a family, they were "over it" about 9 holes in, but trooped through and we all had a fun time because of it. We didn't keep score, but now I'm wishing I'd thought to download the scorecard app beforehand. (Juggling kids, clubs, and a scorecard isn't exactly easy – this is a great option!)
Monster Mini Golf just might be on Arianna's future birthday party list. While we were there, we toured the party rooms and were told about the options to party. You can bring in your own food, and parents golf free with the party kids. Here's the scoop:
Want to enjoy your child's party too? Our two posh and private party rooms give you a real party room, including a full refrigerator, microwave and your own TV. For something more than a cafeteria table set up in the corner somewhere, our year round, indoor facility provides you the peace of mind of not having to worry about the weather. Appropriate for all ages, our children's party packages even allow the adults to golf with the party at no additional charge. So score a hole in one by checking out our party packages. Or stop in for a tour.
It doesn't matter who had the best score on Friday, what mattered was that Monster Mini Golf was a fun place for us to take the kids and get out of the house together. We recommend you adding this to your list of things to do in Pittsburgh. The cost structure is pretty economical, too:
Want to make your experience a 'lil more glowy? There's even Glowy Stuff n'at that you can buy before you hit the course. At the minimum, wear fun black-light friendly clothes!
As you know, I'm all about saving money while having fun. To make your next family date night even more financially friendly, here's a BOGO coupon from US Family Guide (it's good through June 30, 2014). We hope you'll check out Monster Mini Golf in Monroeville soon.