Blog posts on this site may contain affiliate links, which means I may receive commissions if you choose to purchase through links I provide (at no extra cost to you). Read my full disclosure and privacy policy here.
Enter disclaimer text
+
On Friday, December 4, 2015, the Monroeville Mall will be celebrating the grand opening of a new play center. Santa will even be making a special appearance after the ribbon cutting.
What's in the new play center? Get ready for your 'lil Burghers to play inside a real life toy box as well as other Fisher-Price toys and characters that are larger-than-life.
According to the recent press release and details from the Monroeville Mall website:
CBL & Associates Properties, Inc., owner of Monroeville Mall, partnered with Fisher-Price and PLAYTIME, LLC to design and install a series of Toy Box themed play area attractions at select CBL centers nationwide. Monroeville Mall is one of the first malls in the country to debut the new design, which features iconic children's brands like Thomas & Friends™, Little People®, and more!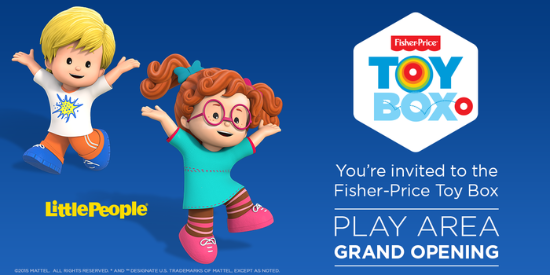 You can find the brand new play area on the lower level of the Monroeville Mall near Macy's. 
As a parent who has taken my 'lil Burghers to the Monroeville Mall, I'll miss the Mister Rogers' Play Area (which has been closed since September); however, hearing about the Toy Box making its way to the mall is pretty exciting. We won't be able to be at the 11:00 AM unveiling; however, we'll sure to be visiting sometime soon. Stay tuned to our Facebook page for photos!
Wait! There's more! I've been asked to share some love this holiday season with some toys for the 'lil ones in your life. This giveaway for a Fisher Price Chatter Telephone and three Thomas & Friends Mini Trains runs through the weekend of the Grand Opening. Good luck!