Blog posts on this site may contain affiliate links, which means I may receive commissions if you choose to purchase through links I provide (at no extra cost to you). Read my full disclosure and privacy policy here.
One of my mom's most treasured pieces of jewelry is her mother's ring. She has two, one for me/Greg/my brother and another for her grands. Both are stunning, so when US Family Guide asked if I'd be interested in working with Mama's Jewelry to share their collection of mothers rings, I just had to say yes.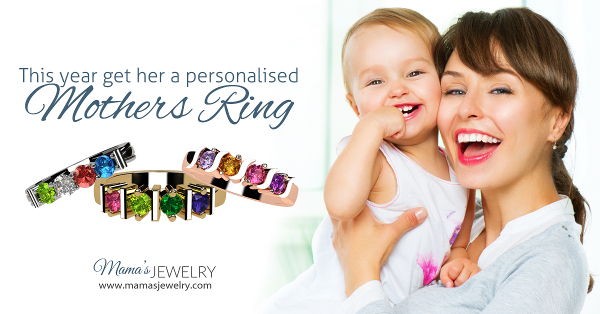 Mama's Jewelry
US Family Guide shared the following information with me about what makes Mama's Jewelry so special:
Moms work hard 365 days out of the year, so why give them another predictable gift this Mother's Day? With the exquisite collection of mothers rings from Mama's Jewelry, you're bound to make this the most unforgettable Mother's Day yet! Each time she looks down at her ring, puts on her earrings or is asked about her necklace, she'll remember just how much she's loved.

Mama's Jewelry has been designing rings and pendants for moms for 30 years, and we have no intention of slowing down! Our company is committed to creating exceptional mothers pendants, rings and earrings at affordable prices.

A key benefit to shopping with us is our fast turnaround times. As soon as we receive your order, our CAD technicians and certified jewelers get to work designing and building your custom item. All of our processes follow strict quality control measures. Everything that comes from us has our seal of approval. If we wouldn't give it to our loved ones, we won't send it to you!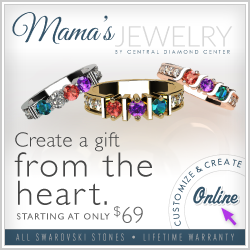 Mama's Jewelry: Ordering
Over the next few weeks, I'll be picking out the design for my mother's ring (with stones for October, December, and two Aprils). I am so excited! They typically send out your personalized item within 3-5 days then shipping takes about a week.
To place your order in time for Mother's Day, visit mamasjewelry.com
Mother's Day Special Offer – Save $10 Off already low prices. (minimum purchase $59) @MamasJewelry has been designing rings for moms for 30 years committed to creating exceptional mothers pendants, rings, and earrings at affordable prices.