Blog posts on this site may contain affiliate links, which means I may receive commissions if you choose to purchase through links I provide (at no extra cost to you). Read my full disclosure and privacy policy here.
This week's Life With Levi breastfeeding blog hop is ""Anywhere, Everywhere, Nowhere" – aka – breastfeeding locations.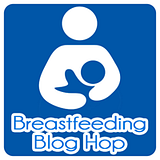 Honestly, I am not really ashamed or scared of the good 'ol NIP–Nursing in Public. Lil Man needs to eat when he wants to, so we do what we have to do. There are a few things that distract him, like "grown up food" and his energetic sister, but pretty much when he wants to eat, he has a one track mind.
Is there anywhere I wouldn't breastfeed? For sure. But they are personal decisions and I have a place to go when I need to. Like at certain relatives' homes–I know that I need to go to another room, it's a fact of life. Or church–that to me is a given obvious. Or if I am wearing a dress–you know, the kind that doesn't have access? Yeah, you make that mistake once as a Milkin' Mama and you never do again. The beach–yeah, I wouldn't wanna do it there because of the sand, but a pool? Check that one off my list many times. I probably wouldn't while walking around the grocery store either, unless I could get him to not snooze in the Moby Wrap and nurse instead. A public restroom–NEVER tell me that's the place to go and nurse or even pump. To me, that's unacceptable and society needs to recognize that.
I guess my small list of no-no's could be a long list to more seasoned mamas or a short list compared to others'. The great thing about nursing (…and motherhood…and parenthood) is that YOU (and your spouse/partner) are the ones who make the decisions as to what is best for you and your baby. That might be to nurse, to nurse in public, to nurse in private, to supplement, or to formula feed. None of the options should make a mama (or daddy or baby) feel ashamed.
Lil Man and I are really lucky to have the backbones and support system we do to make this possible. If you are someone who needs a little extra support or confidence, check out the other ladies on this week's hop or leave a comment below. We're glad to have you stop by and read today!