Blog posts on this site may contain affiliate links, which means I may receive commissions if you choose to purchase through links I provide (at no extra cost to you). Read my full disclosure and privacy policy here.
In this week's Breastfeeding Blog Hop prompted by Life With Levi, us Mamas are talking about what we would have done differently.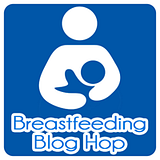 If I had a do-over with 'lil Miss A, I don't think I would have done anything differently. Sure, there were options I could have taken…like going non-dairy; however, I had NO clue how many other food allergies and aversions she would end up having (explaining my pregnancy weight loss and constant sickness with her). So, basically, I feel like even if I had gone non-dairy, it would not have been enough. Formula was expensive, and I wasn't exactly ballin', but it was the right thing to do at that time. Besides, I would not have been able to pump at work (I was a teacher with a "break" for 40 minutes a day while we had meetings or prepped for the rest of the day), and I wasn't able to be with her enough with my commute to make it really worth it.
If I had a do-over with 'lil Man, I think I wouldn't be so darn hard on myself. We made it through 6 months without formula–including 8 days of me being away–and kept him gaining enough weight to make the doctors happy ('lil Man is constantly considered "underweight" but gaining). When I started to have vertigo issues, my supply went down drastically and I beat myself up over not getting enough and having to give in to the formula. Today, we are down to 1 or 2 feedings a day (depending on how we both feel), but we're both happy and bonded. There was nothing wrong with having to give him formula (especially since we made it almost 9 months before he was having over 50% formula a day).
If I have a chance to do it again, I am going to do it to the best of my ability and give it my all.