*articles may contain affiliate links* I've teamed up with US Family Guide to bring you information about Mystery Tackle Box. All opinions, as always, are 100% my own.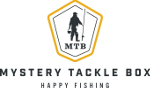 Would you believe me if I told you that I used to enjoy fishing? Didn't think so – you might know some of the truth, so I'll lay it out there and tell you the whole truth.
When I was a kid, I loved fishing with my Pappy Jack (my first best friend). He passed when I was five, and I got one of his fishing rods. When out fishing with my parents a few years later, a bass hooked onto my line. It was a big one, probably worthy of my dad's wall of taxidermied animals. This fish was too big for me to handle and it ended up snagging my rod out of my hands and whisking it away into the depths of Pymatuming. That put an end to my fishing days.
Well, until we started to go to Canada. There was this boy that cottaged at the same place as us and I might have done some fishing activities to try to impress him. When that didn't work, I basically stopped fishing, except to show Greg those fishing skills once or twice along the way.
But my family? My family is a family of fishers. My mom has angled some pretty bass, my dad had several boats and still takes the kids fishing, and my brother is probably one of the best anglers I know – I'm shocked he's not gone pro! You'd think with a family of fishers I'd know what to get the fishermen(and woman) in my life, but I really don't. That's why I'm intrigued by Mystery Tackle Box and a gifting option – it takes the guesswork out of my buying process!

Mystery Tackle Box
Here is what US Family Guide has shared with me about Mystery Tackle Box:
Mystery Tackle Box is the #1 fishing tackle subscription service offering anglers and fishing enthusiasts a fun and affordable way to discover new fishing lures, learn new techniques and catch more fish! If you, or someone you love, enjoys fishing, get them a Mystery Tackle Box Subscription today. You'll enjoy a monthly box full of new and innovative fishing lures and products, content on how to use everything, plus stickers and special offers.
Here's how it works:
1. Purchase a Mystery Tackle Box (MTB) Gift Certificate (monthly subscriptions start at $15 per month).
2. Your gift recipient creates an account with MTB and tells them some of their fishing preferences.
3. MTB takes these preferences and puts together a curated box of baits to send to them each month, starting within 10 days of initial sign up.
4. You win the "gifter of the year" award, which hopefully includes hugs and free food & drink of some type.
If this sounds like something that you'd like to add to your holiday gifting, visit Mystery Tackle Box's website to find out more and get signed up. US Family Guide has included a special offer for you, too! My readers save $10 off their first Mystery Tackle Box when checking out with code USFAM10 before December 31, 2017. Visit http://mtbfish.com/holidaygiftUSFAM to learn more!