Blog posts on this site may contain affiliate links, which means I may receive commissions if you choose to purchase through links I provide (at no extra cost to you). Read my full disclosure and privacy policy here.
Enter disclaimer text This post about British Soccer Camp is one such post.
What does Evan want to be when he grows up? A soccer player.
That's why I'm not at all surprised when he was full of delight when I asked him if he'd be interested in spending a week of his summer focused on soccer skills. I didn't even have to bribe him with "you'll get to ride to work with Mommy and maybe we'll stop for coffee one or two days", because he's just that into soccer. Score.
We're lucky here in Pittsburgh to have several options for the soccer camp in the area this summer, with locations around the city that are sure to be convenient for all of us 'Burghers. If your soccer player isn't ready to take on a full day program, there are also half-day options available.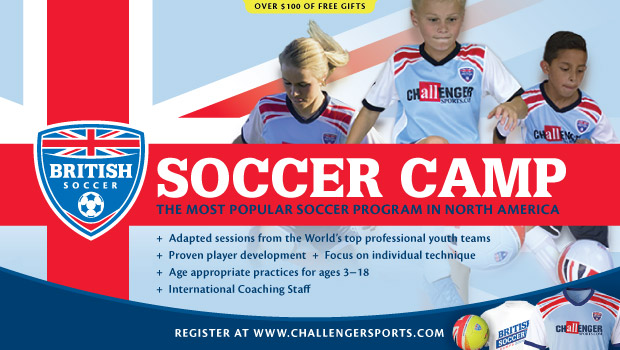 Our friends over at US Family Guide filled me in on why this camp is the place to be this summer:
British Soccer Camps are the most popular soccer camp in the US. With an innovative curriculum that develops skills, speed and confidence in players ages 3-18, The British Soccer Camp provide boys and girls with the rare opportunity to receive high-level soccer coaching from a team of international expert's right in the heart of their own community. In addition to teaching new skills and improving game performance, each British Soccer Camp provides lessons in character development, cultural education and is the most fun your child can have learning the sport they love!
Sounds like it will be a great experience for our future soccer star, right? If you would like enroll your child in a British Soccer Camp near you (not limited to Pittsburgh!), use code CAMP17 when you register for camp and get a free soccer ball, jersey, t-shirt, and poster (over $100 in gifts)! Follow along on Twitter with @ChallengerCamps and be sure to follow @usfg for family-friendly fun near you.