Blog posts on this site may contain affiliate links, which means I may receive commissions if you choose to purchase through links I provide (at no extra cost to you). Read my full disclosure and privacy policy here.
This post contains information provided to us by US Family Guide about Dinosaur Adventure. In exchange, my family will receive tickets to the event. All opinions are 100% my own.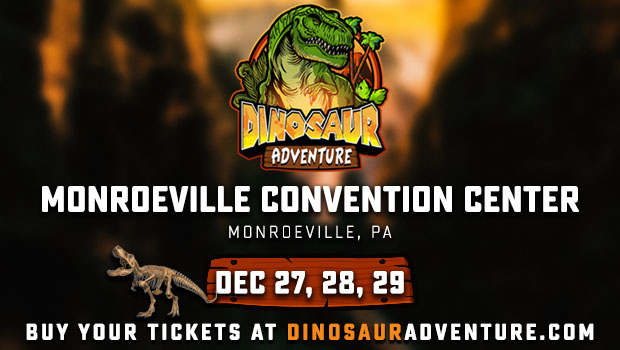 I am excited to share that Dinosaur Adventure is coming to two locations in Pennsylvania this holiday season:
Allentown, PA – Allentown Fairgrounds – Dec. 21 – 22
Pittsburgh, PA – Monroeville Convention Center – Dec. 27- 29
Dinosaur Adventure is an all-new, one of a kind exhibit featuring realistic, life-sized dinosaurs that come alive with their life-like movement and roars. Learn about the most popular dinosaurs -Tyrannosaurus, Triceratops, Diplodocus, Velociraptor, and explore recent finds with exciting discoveries!
As part of Dinosaur Adventure, children of all ages will enjoy a variety of activities: fossil crafting, Jurassic jeeps, themed obstacle courses, riding their favorite dinosaur, and more! The whole family will also be amused by our live entertainment featuring a walking dinosaur show, and a baby dinosaur meet & greet. My Readers SAVE – $3 Off any Adult, Child Activity or VIP Ticket Use Code: FLASH3 https://www.dinosauradventure.com/upcoming-events/