Blog posts on this site may contain affiliate links, which means I may receive commissions if you choose to purchase through links I provide (at no extra cost to you). Read my full disclosure and privacy policy here.
This post contains information provided to us by US Family Guide about the Dinosaur Adventure Pittsburgh showing. In exchange, my family received tickets to the event. All opinions are 100% my own.
Our Experience at Dinosaur Adventure Pittsburgh
We already told you that Dinosaur Adventure is in Pittsburgh for three days – December 27-29 – but now it's time to share the fun we had!
First, let's talk about logistics of the event space. I have to say that I love events that happen at the Monroeville Convention Center. Parking is FREE and there are plenty of bathrooms within "kid emergency" distance. These are important things when you're hauling four kids around of about an hour from Armstrong County!
We took the kids to the show the first evening and spent about two hours having fun exploring the realistic dinosaurs and riding the rides (we had wristbands but did not do the ticketed activity – panning and mining). From the moment we entered through an inflatable dinosaur rib cage until we exited back out of it, the kids were laughing and enjoying. It might have been the only two fight-free hours of Christmas break so far!
Take a look at all the fun the kids had + some of the great photo opportunities. I knew I needed to take some photos during the event but I really just enjoyed keeping my phone down watching the kids dig for fossils, check out facts, and ride the dinosaurs (there were three different dinosaur ride-ons, including motorcycle-like dinos that had me wondering why the 4-year olds were better drivers than the Bigs, T-Rexes that were a story high, and Triceratops that were the size of ponies – so!much!fun!).
This event reminded us of the dinosaur exhibit at the National Aviary this summer – did you catch either or both of these?
Making Fossils at Dinosaur Adventure
After checking out all of the dinosaurs, your kids are going to want a souvenir. Yes, like any event, there is a souvenir shop but we got to completely avoid it because they had it (strategically?) placed behind the concessions and exhibits in another room of the convention center. We had to have "the talk" about no toys/balloons/etc coming home with us because it was JUST Christmas but the kids didn't really mind too much when they realized they got to make a fossil to take home for FREE.
But can I tell you that I was a little ready to bend when I saw the super cute helium dinosaurs that kids were "walking" around the hall?!?!?
The fossil making involves a cup + clay + an impression from a dinosaur toy + plaster. The hairnets shown below were not part of the requirement for arting, they were worn under helmets on rides (THANK YOU for that perk!).
PRO TIP: If you head over to the ride area fairly early in your visit, have your kids do the fossil activity. It takes about 5 minutes to put together and then another 30 minutes to dry. There is PLENTY to experience while it dries, but don't save it 'til the last minute when everyone is hungry.
Ready to check it out?
Dinosaur Adventure is an all-new, one of a kind exhibit featuring realistic, life-sized dinosaurs that come alive with their life-like movement and roars. Learn about the most popular dinosaurs -Tyrannosaurus, Triceratops, Diplodocus, Velociraptor, and explore recent finds with exciting discoveries!

As part of Dinosaur Adventure, children of all ages will enjoy a variety of activities: fossil crafting, Jurassic jeeps, themed obstacle courses, riding their favorite dinosaur, and more! The whole family will also be amused by our live entertainment featuring a walking dinosaur show, and a baby dinosaur meet & greet.

Information from US Family Guide
My Readers SAVE – $3 Off any Adult, Child Activity or VIP Ticket Use Code: FLASH3 when you buy tickets here.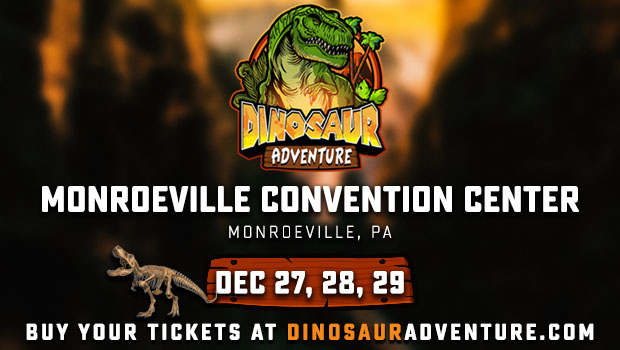 Did you make it to Dinosaur Adventure Pittsburgh? What did you think? If you're not in Pittsburgh or missed this traveling show, check out where they are headed to next!