Blog posts on this site may contain affiliate links, which means I may receive commissions if you choose to purchase through links I provide (at no extra cost to you). Read my full disclosure and privacy policy here.
This week's Life With Levi breastfeeding blog hop is about Breastfeeding Celebrations.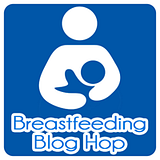 Usually, I talk about the great things happening for Lil Man and I, so there is always something to celebrate with us. Today, I'd like to share a little bit a personal celebration I had when I tried to nurse Lil Miss A (before we realized that she had a milk issue and I had a soy issue).
Lil Miss A was decently interested in trying to nurse; however, the nurses at the hospital gave her a bottle and a pacifier relatively quickly. Being a single mom, I felt sort of helpless, so I didn't demand that neither happened (like we did with Lil Man). My parents and friends were supportive of us trying, but the nurses weren't too helpful and there was no access to an LC while I was in the hospital.
They did recommend this crazy shield that I had to apply before we tried to nurse. This little clear piece of rubber was a huge pain in the butt. If she was hungry, I had to whip it out, apply, then try to get her to latch. For the first two weeks, she didn't really want to eat without it; however, I have to admit I did many a happy dance when she latched without it (by the end of our nursing time).
Sometimes, it's the little things, like celebrating freedom from a shield or that I am able to say I did feed Lil Miss A for about four weeks. We worked through issues, and those are also quite worthy of celebration and recognition.
Nursing Mamas? What celebrations, big or small, did you have while breastfeeding your babes? Drop on by the blog hop and share!