Blog posts on this site may contain affiliate links, which means I may receive commissions if you choose to purchase through links I provide (at no extra cost to you). Read my full disclosure and privacy policy here.
Enter disclaimer text This post about British Soccer Camp is one such post.
Do you remember what Evan really wanted to do this summer? He was super excited about spending a week at British Soccer Camp at Pittsburgh Indoor Sports Arena – and he did it! 
Last week, he (and Arianna) stayed with Pappy and Grammie so he was nice and close to the camp. (We live about 35 minutes away and six year olds go to half day camp from 9 to noon – huge kudos and thanks to my parents for helping make this easy on my commute!) While he didn't tell us much about camp specifics, his excitement to get up each morning without Pappy having to encourage him speaks volumes. (This is a boy who sleeps like a rock and does not like to wake up.)
The week started by me and my dad dropping Evan off – we wanted to meet the coaches and get all the logistics covered. (Which can I just say that British Soccer Camp makes this so easy – they sent some reminder emails before the week started and included a release form that allowed my dad, mom, and uncle to get Evan throughout the week. We printed that off and had no issues all week – super easy.)
Evan was the third kid to check in, but would have been first if he didn't have a I HAVE TO PUT MY BRITISH SOCCER JERSEY ON NOW moment in the van once he saw the coaches walking into PISA wearing their jerseys. He was younger than the other two kids and said to me, "good thing I'm small, I'm going to outrun them cause I am so fast from not running in a while". Hmmph! This was seconds before he pushed me out of the bench area and said to go to work 'cause he was good and settled. Well then, looks like we have a Beckham on our hands?!?!
My dad handled camp the rest of the week and he was impressed with the ease, the facility (and staff), and coaches. Evan was exhausted after each day but definitely loved it.
On the last day of camp, we took the whole family plus Pappy and Grammie to watch the campers play a game and get their awards. Coaches James and Diego also gave the kids an evaluation – lines right up with what we've been trying to work with Evan on.
After a week of camp, Evan definitely shows that he loves playing defense over anything (sorry, Coach X, but we think he will try to do some more goalie work soon, too!) and is still all about fairness on the field. He's looking forward to his fall season at our local Y, but keeps asking if he can do camp again next year!
While summer might be coming to an end, there are still some several options for the soccer camp around the country. And keep watching – they'll be back in Pittsburgh next summer!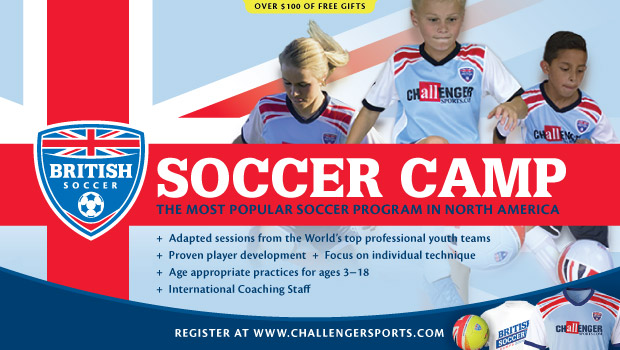 Before we signed up, our friends over at US Family Guide filled me in on why this camp is so special:
British Soccer Camps are the most popular soccer camp in the US. With an innovative curriculum that develops skills, speed and confidence in players ages 3-18, The British Soccer Camp provide boys and girls with the rare opportunity to receive high-level soccer coaching from a team of international expert's right in the heart of their own community. In addition to teaching new skills and improving game performance, each British Soccer Camp provides lessons in character development, cultural education and is the most fun your child can have learning the sport they love!
Want to keep in the know? Follow along on Twitter with @ChallengerCamps and be sure to follow @usfg for family-friendly fun near you.
+
What camps did your kiddo participate in this summer?