Blog posts on this site may contain affiliate links, which means I may receive commissions if you choose to purchase through links I provide (at no extra cost to you). Read my full disclosure and privacy policy here.
A 'lil over a week ago I went off to Chicago to meet some of my blogging friends and 5,000-ish of our peers at BlogHer '13. It was a conference I'd been looking forward to for many personal reasons. I love blogging, and I love the community. I just needed it all to come together. And that it did. #BlogHer13 taught me a lot about myself and why I do what I do.
Arriving in Chicago, I was full of hope and excitement. My plane landed early, so I assumed I'd get some time to meet up with my roommates (Jen and Kayla) before the weekend was in full swing. GPS on my (crappy) phone had other plans. I got off the train at the right stop, but then saw it was another 1.6 miles to my hotel (it wasn't). Not wanting to drag my luggage all over town, I got back on the train and headed north–the wrong way–then south too far. Finally, I gave in and called an Uber Car. BlogHer 13 taught me to plan ahead when traveling in a new city–know your route ahead–and to have a reliable GPS if possible.
I was able to take some time to brush my hair (one of the few times I did all weekend, oops) and freshen up before finally meeting Jen in real life. We headed to our room and started to plan the evening and weekend. BlogHer 13 taught me that sometimes people who you meet online can really be as awesome in person as they are online…and don't wait two years to actually meet.
Thursday evening took me to the Expo Hall (where I won a Verizon Wireless Blackberry z10, review to come). My loving relationship with my FitBit began, too, as I met up with BestBuy to prep for the next day's 5k (review to come). After I had a cup of coffee from Folger's, it was time to hail a cab (my first actual hail) and go to two parties (of which I may review in future posts). During the in-between of parties, I got the tweet about winning the phone, so I had to rush back to the Expo Hall. BlogHer 13 taught me to be prepared for anything.
Friday morning started bright and early. (Jen called me crazy.) I woke, stretched, and got dressed for the BlogHer/Best Buy 5k. When I got to the registration table, I learned that not everyone is a morning person and that the 5k was not at all organized in the fact that the route map wasn't marked and the start was unofficial (we all started at different times). I didn't tweet to Danni Allen hard enough to get her to run with me, which was a sad fail because I ran it alone and got lost in the levels of Chicago (and later I found out she was at a blogger lunch with Walgreens, boo!). My run ended up taking me up and down a lot of steps and an extra 0.15 miles. I did, however, PR the 3.1 miles. BlogHer 13 taught me I do love to run and that when I am scared, I do run a bit faster than I realize I can.
I returned to shower and get ready for my day, but ended up missing Ree's keynote and Speed Dating (next year). I did, however, make it on time for some more coffee then "Shedding the Facade", a session on blogging about the things that make us vulnerable. (You know, like this or this.) The tears that met my eyes affirmed that I am blogging for a reason and that the stories I tell, even if only a few read them, are worth it. I got to finally meet Kristi (a fellow runner) and ran into a Pittsburgher, Brittney, from The Motherhood, too. BlogHer 13 taught me that telling MY STORY is the right thing to do, even if it hurts from time to time.
After lunch, I carried my bags of swag to a session including Pittsburgh's own Michelle (of Burgh Baby) and prepared myself to get "tsk tsk'ed" because of my swag–the session was on UnMarketing and why we are not a brand. Again, my heart was hit–I am doing the right balance for me. I don't write about things my family doesn't use. I donate things we wouldn't (like a huge bottle of Lubriderm in the ladies' room…because we have a ton of lotion here at home). I share other people's do-good efforts. I am not a brand. BlogHer 13 taught me that I am allowed to work with brands (within reason), as long as the fit is right for me (and my readers).
Michelle and I walked around the Expo for a 'lil bit and then I went back to my room to just have a moment. To be honest, BlogHer is a lot to take in. Smiling, connecting, telling my story over and over. Remembering whose business card matched with what product. I was in serious need of some pampering, so I went off to get some pampering and ended up just having a cocktail and a generic tarot card reading. BlogHer 13 taught me that sometimes not everything is what it's cracked up to be.
(However, Jen and I did have a fun time making this video.)
Michelle, who is amazing, told me I had to be at the Voices of the Year Keynote (and Greg did, too–Queen Latifah was the emcee). I got there just in time to hear that The Queen was in traffic, perfect timing! I was treated (with all the other BlogHer's) to the readings of some funny, sad, and deep readings from the women who won Voices of the Year. I fell in love with blogging all over again, and had my heart warmed by the words I heard (and just maybe asked Greg to check us all for pinworms when I got home, you'd have to be there to understand). BlogHer 13 taught me that one day I just might find the right words to be honored like these women were.
I later met up with Jen, but getting a cab from Hailo was a fail. It took me 45 minutes to get a cab then another 10 to meet her. By the time I met her, it was time to go back where I came from. BlogHer 13 taught me that sometimes you should just hail your own cab and not pinch the damn pennies as much.
We headed to the Sheraton to meet some of my new blogging connections, but I had to call it a night early because I was starving (literally–I didn't eat a real dinner, fail!) and dehydrated (from only drinking 150 ounces of water and putting in over 10 miles on Friday). BlogHer 13 taught me to eat and drink and not to forget about myself.
Saturday morning was breakfast (when, sorry, I had to split and go to a new table because I do not like when people talk over the whole table about how awesome they are–must not have read this). Luckily, Michelle again came to my rescue and I got to actually enjoy the conversation. I stuck around a while to think about what I'd do if I weren't afraid. BlogHer 13 taught me to not be afraid.
Next, I went to two sessions on pitching brands and making a media kit. I loved the lessons learned in these ones, but you'll all just have to wait and hear what happens because of the lessons. BlogHer 13 taught me that all you have to do is ask…and have supporting data to show why.
Lunch–I briefly sat in the keynote and listened to Lourdis Lane talk about "fessin' up to messin' up" and how we are all superheroes. BlogHer 13 taught me that I am stronger than I think.
I headed back to the Expo Hall to get a 'lil touch-up in the way of Kiss Lashes and hair/make-up (thanks to Windex) and then to network. Blogher 13 taught me that yes, I can look beautiful and it's not that hard to achieve.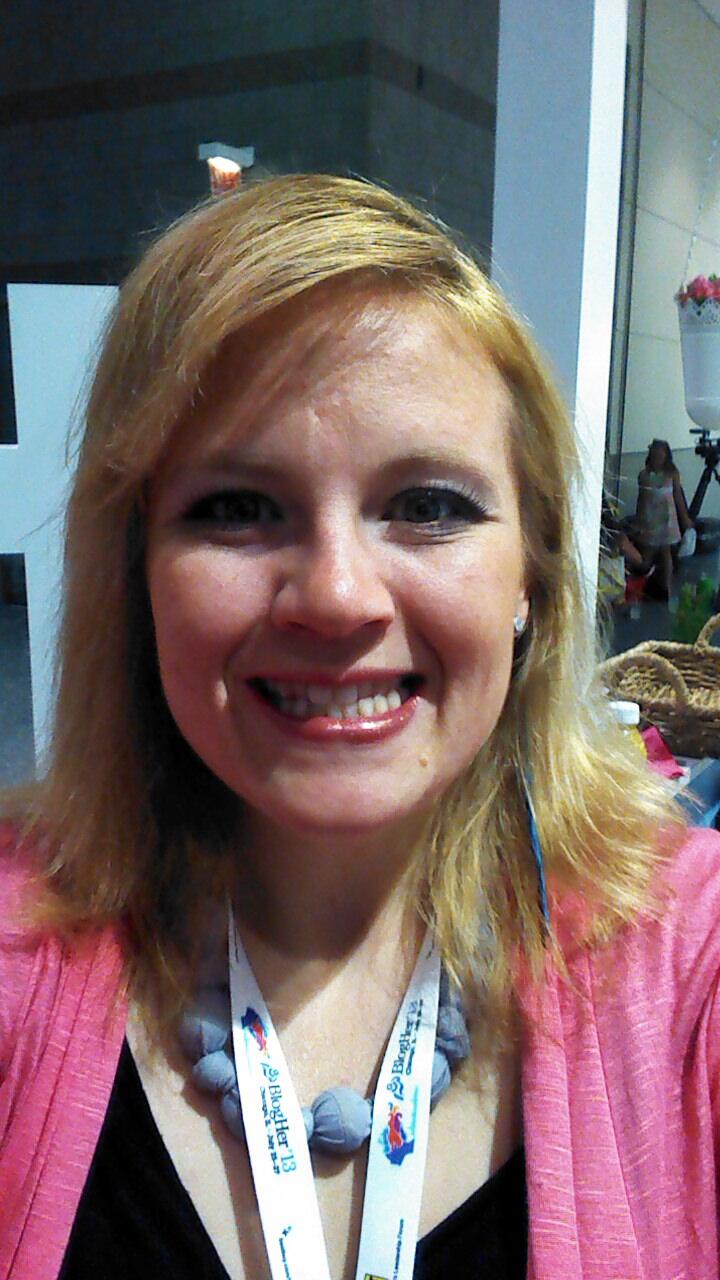 The evening consisted of packing my swag, taking in a movie (can't wait to tell you about that), enjoying Chicago with my roommates (in ways I never thought I would), partying at CheeseBurgHer, meeting some of my bloggy crushes, and laughing oh, so hard. We got back to the room after 3, and I had to be up and out the door just after 6 for an early flight (that ended up delayed, of course). Every second of it was worth it. BlogHer 13 taught me to let loose, enjoy, and laugh lots.