Blog posts on this site may contain affiliate links, which means I may receive commissions if you choose to purchase through links I provide (at no extra cost to you). Read my full disclosure and privacy policy here.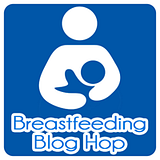 Breastfeeding Blog Hop Mamas, have you missed me? 'Lil Man and I are still here, fighting it out. We've made it to 10 months, but he is mostly switched over to formula. I've really been struggling with my supply and really have barely enough to satisfy his growing boy self.
Gotta be honest, I am glad I've been able to retire the pump. Even though I no longer pump religiously at work, I still keep it with me and keep a hold on my calendar if I need to go to the Mother's Room. The other day, I even skipped wearing my nursing pads, saw 'Lil Man mid-day and ::surprise:: had no mishaps of leakage. The pump travels home on weekends just in case he goes to stay with my parents and I can squeak out a 'lil extra for him.
But on the flip side of my honesty, I am sad. I do not look forward to our last nursing session, and I really hope he still needs me once or twice a day up to the year mark. There really is nothing better than being all snuggly with a hungry baby, and I am not ready to let go.
Thank goodness 'lil Man is free of milk allergies (unlike his sister) and that his Daddy couponed for formula. Our stockpile is going to last us through his first birthday, so no worries there. It just saddens me that the icky smelling goo of formula is now what is his life blood.
Hopefully we'll keep checking in with you Mamas. You've all been a great support system. Thank you, @lifewithlevi for being such a gracious host of this hop!
xoxo,
Mrs. Burgher